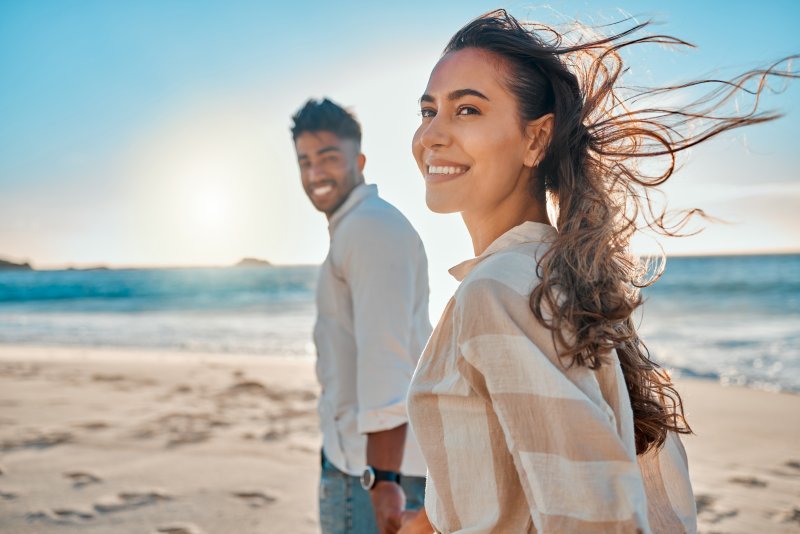 If you're planning a trip to the beach this summer, the last thing on your mind might be if your teeth are prepared. With so many activities to do, people to see, and places to be, you'd be forgiven for neglecting the ultimate Instagram selfie secret—your smile.
Chipped or broken teeth, enamel staining, and a misaligned grin are all terrible confidence crushers that might prevent you from enjoying your trip to the beach. This is especially true if you plan to take lots of photos and post them online. For some people, the thought of someone judging their smile is enough to want to stay home.
But there's no need to worry! Cosmetic dentistry can restore your confidence and your smile, and here's how.
Teeth Whitening for a Quick Fix
Cigarettes and dark-colored drinks like coffee and soda can leave lasting stains on your pearly whites, leaving an impression of an unkempt mouth. If your plane leaves in two weeks, and you've only got time for one or two trips to your dentist, a teeth whitening solution might be your best option. While it won't fill in gaps or fix broken enamel, removing stains from your teeth with a set of trays and whitening solution will make your smile pop!
Most whitening treatments can be completed in 7 – 10 days after a visit with your dentist to get your take-home kit. Afterward, you'll see a very noticeable difference in the shade of your teeth, and you can continue to use the trays to maintain the color. If your teeth are stained from taking tetracycline—a chemical that can be found in some antibiotics—your dentist may offer a KöR whitening treatment that takes a bit longer to complete, so plan ahead!
Porcelain Veneers for a Complete Makeover
While whitening can be a big confidence booster if your teeth are already in good shape, it may not be the best solution for someone with more severe dental issues. Those who live with gaps in their teeth or who have some broken or chipped enamel will need more complete treatment before hitting the sand and surf.
Luckily, porcelain veneers can cover a wide range of dental imperfections all at once. Veneers are hard shells that are adhered to your natural teeth and adjusted until your smile is perfectly aligned. The entire process can be completed in a few weeks, so if you're looking ahead, you'll have plenty of time to get to your dentist before your trip.
Dental Bonding for a Good Balance
If you don't have enough time to get a set of veneers, and you need more work than teeth whitening can offer, your best option might be cosmetic dental bonding. This treatment uses a special material to fill in problem areas and can be done in a very short time. It could be the perfect way to get your teeth in beach-ready mode as quickly as possible, but there's a catch.
The bonding compound used in the process will be matched to your existing color. Even if you whiten your teeth in the future, the color of the material won't change, so it's best to discuss a treatment plan with your dentist to see if the other options would be best for a long-term solution.
As you gear up for your sun-soaked beach adventure, remember that your smile plays a crucial role in capturing those cherished vacation moments.
About the Author
Dr. Mihran Asinmaz considers his position as a dentist to be an honor and a privilege. His office is built on the values of trust, confidence, and respect. After earning his Doctor of Dental Medicine from Nova Southeastern University, he continued his education through a General Practice Residency (GPR) in the prestigious North Shore – Long Island Jewish Health System. Today he is one of the most educated dentists in the US, boasting an impressive number of professional dental organization memberships. To learn what Dr. Asinmaz can do to prepare you for adventure, visit his website here or call (561) 640-9200.