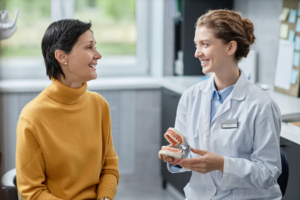 If you've heard of dental implants, you probably know that they're essentially unrivaled when it comes to restoring lost teeth, as they don't just replace them but also boost oral health in general. However, since each smile is unique and everyone with tooth loss has different circumstances, patients opting for dental implants might need anywhere from one to several posts to fully secure their new restoration. Keep reading to learn a little more about dental implants and how your dentist determines the appropriate number to use to rebuild your smile.
A Brief Overview of Dental Implants
Dental implants are small, titanium posts that are surgically placed with a patient's jawbone to assist with tooth replacement. These posts are capable of fusing with bone matter, creating a stable foundation for the new teeth. By mimicking the lost roots of your natural teeth, implant posts offer incredible and unique benefits that other restoration options can't match on their own. Dental implants have an incredible 98% success rate and are capable of lasting for a lifetime under ideal conditions, making them the most recommended tooth replacement solution around.
Factors That Determine How Many Implant Posts Are Needed
A healthy mouth can retain anywhere from one to two to even up to eight dental implants, but the number needed depends on several factors, such as:
1. Location & Number of Teeth Being Replaced
The upper and lower jaws of the human body differ greatly; the upper jawbone is usually much softer, and because of this, more implants usually need to be placed for a stable, lasting result. The upper jaw also houses your sinuses, which cannot facilitate implants (and sometimes need to be lifted to make room for implant posts in the upper jaw). The lower jaw is much denser, and fewer implants can often be placed to achieve stable results.
2. Remaining Jawbone Density
Since dental implants rely on the patient's jawbone for stability, it's important to ensure that there's an adequate amount of bone matter remaining before the implants are placed. When bone is abundant, up to four implants can be placed in the upper jaw and another four in the lower, if that many are needed. Some patients might require a dental bone graft if their jaw has deteriorated due to tooth loss.
3. Patient's Preference
Different patients have different preferences; some prefer something that's fixed and resembles natural teeth, while others want something removable and slightly easier to care for. On the lower jaw, a removable option can have as little as two implants, while a fixed one might need at least four. Concerning the upper jaw, the minimum needed for either is four due to the composition of the bone.
Of course, it's also worth mentioning that receiving any number of dental implants requires good general and oral health. If you suffer from certain conditions like diabetes, gum disease, or you're a heavy smoker, dental implants might not be viable. Your dentist will also be able to assist you with getting your mouth situated for dental implants.
About the Author
Dr. Mihran Asinmaz has proudly served patients and families in the West Palm Beach community for several years! His practice is thrilled to offer a wide range of restorative services including dental implants for those who desire to rebuild their smiles and enhance their oral health. If you have any questions about the blog or you'd like to arrange a consultation to see if you might benefit from dental implants, don't hesitate to contact the practice today! Telephone: (561) 640-9200.