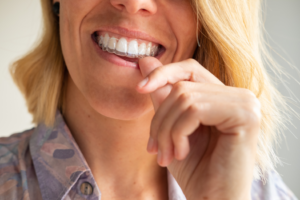 Invisalign has taken the world of modern dentistry by storm, and more patients than ever before are opting for this innovative treatment option due to its relative convenience and expedited timeline. But in some cases, patients who receive Invisalign will also require attachments, to ensure that the trays can do their job to their fullest potential. Here's a closer look at these attachments and a little more about what you can expect when it's time to have them removed.
A Closer Look at Invisalign
To put it simply, Invisalign relies on a series of customized, clear plastic aligners to realign teeth into a straighter and healthier position. By applying gentle, gradual pressure, these advanced trays can safely and quickly correct teeth misalignment, bite problems, and other orthodontic issues. Patients wear the trays roughly 20 – 22 hours a day, only removing them to eat and brush, and advance to subsequent trays as their teeth are repositioned.
What Are Invisalign Attachments?
But sometimes, it's possible that the aligners on their own aren't enough to get the job done—this is especially true for advanced or complex cases. This is where Invisalign attachments come in handy; these are generally made from a tooth-colored composite resin, which is the same material used in other various types of dental work.
Your provider will determine where the attachments need to go and how many are necessary, and once adhered to your teeth, they'll help your aligners shift them as intended by giving them a little something extra to grip onto. One common type of attachment are buttons, which refer to small auxiliaries that function as anchors for your rubber bands. Another popular type, called Invisalign bumps, are built into the plastic aligners themselves. Bite ramps are also sometimes attached to the trays to help open a patient's bite vertically.
You can expect a little discomfort following receiving your Invisalign attachments since your mouth must adjust to wearing your trays, but this doesn't actually increase the amount of force being used to move your teeth—so you won't experience any "extra" discomfort.
What Should I Expect When the Attachments Are Removed?
It's important to note that not every Invisalign case will require attachments; while they do help to accelerate the process for many patients, your provider will determine when and if they're needed. In some cases, Invisalign attachments can accidentally fall off during treatment. This can happen if you don't follow your treatment guidelines, like if you eat while wearing your trays. If this happens, contact your dentist promptly to keep your treatment on track!
At the end of your Invisalign journey, having the attachments removed is a relatively straightforward process—in fact, an anesthetic isn't even required, and you shouldn't feel pain at all during the quick appointment! If you had buttons, they're buffed off with ease and your teeth are polished afterward. Do not try to remove your attachments yourself, and if you suspect there's an issue with one of your attachments, don't hesitate to let your provider know.
About the Author
Dr. Mihran Asinmaz has proudly served the dental needs of patients and families in the West Palm Beach community for several years. Dr. Asinmaz received his DMD from Nova Southeastern University and is an active member of numerous professional dental organizations, including the American Dental Association and the American Academy of Cosmetic Dentistry. If you have any questions about Invisalign or you'd like to schedule a visit with Dr. Asinmaz, feel free to contact him through his practice's website or over the phone: (561) 640-9200.