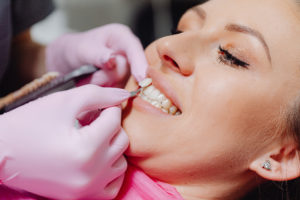 If you're ready to turn the smile of your dreams into reality, porcelain veneers can give you the results you want. Although there are more cosmetic treatments than ever before, veneers continue to rank among the most popular. They can provide drastic results using a minimally invasive procedure. However, you may not have expected to need temporary veneers during the process. Although they'll only be in place for a couple of weeks, they are crucial to the success of your procedure. Here's why temporary veneers are necessary, and how long you'll need to wear them.
What Are Porcelain Veneers?
A veneer is a customized shell applied to the front surface of a tooth to improve its color, size, and shape. When bonded to the teeth visible when smiling, they fix many aesthetic imperfections using one procedure, like chips, cracks, stains, and gaps between teeth. Veneers provide long-lasting results using a minimally invasive method.
What's the Process for Getting Veneers?
After an initial consultation and any preparatory procedures, you're scheduled for the first half of your treatment. Your teeth are cleaned and your dentist will remove a small amount of enamel to ensure your veneers sit flush on your teeth. It also creates a stronger bond to ensure your veneers last for a decade or longer with the right aftercare. After taking an impression of your mouth, your dentist will apply temporary veneers to protect your teeth.
Your impression is sent to the dental lab, where they will create your veneers to meet your exact specifications. In a couple of weeks, your permanent veneers will be sent back to your dentist, and you'll return to have them bonded to your teeth.
Your dazzling new smile can last for 10 years or more with the right maintenance, like brushing and flossing.
Why Are Temporary Veneers Important?
The etching process does not damage your teeth, but they can be susceptible to sensitivity, bacteria, and infections if they are not covered by restorations. Your temporary veneers will protect your teeth while waiting for the dental lab to craft your final restorations. They also allow you to "try on" your new smile; however, they will not look or feel exactly like your permanent veneers.
Although temporary veneers are an additional step in your treatment, don't let them discourage you from revamping your smile. You can reach your goals without needing multiple procedures or a lengthy treatment plan. In just a few short weeks, you will have a picture-perfect smile that you'll be proud of.
About Dr. Mihran Asinmaz
Dr. Asinmaz earned his dental degree from Nova Southeastern University and has regularly pursued continuing education in various specialties, including cosmetic dentistry. He is a proud member of the American Academy of Cosmetic Dentistry and many other professional organizations. If you're ready to improve your smile, request an appointment through our website or call (561) 660-9056.