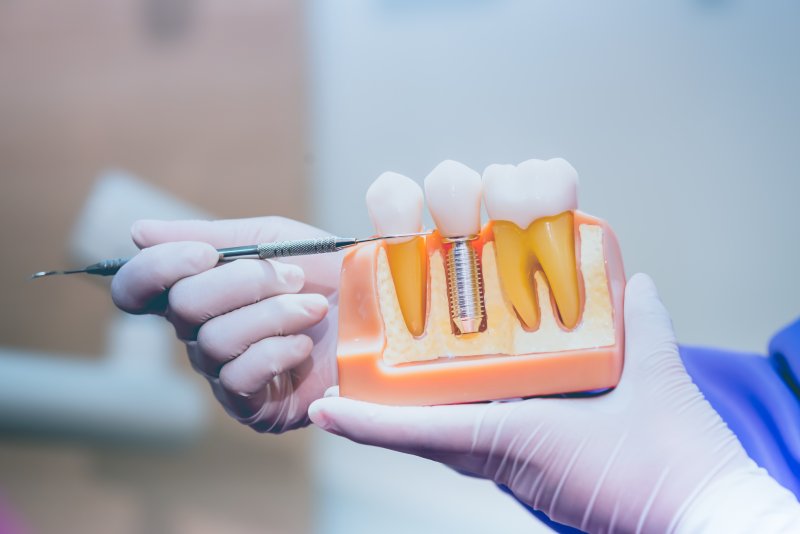 When you're sitting around the thanksgiving table and you're asked to say what you're thankful for, it can be a little hard to come up with something on the spot. Looking at the spread in front of you—turkey, stuffing, casserole—there's one thing they all have in common. Dental implants can let you eat them with ease!
Dental implants can make a massive improvement in the lives of people with missing teeth. Here are three reasons why you should be thankful they exist.
They're Comfortable
Dental implants can bite, chew, and clench very naturally, with no need to be concerned that they'll pop out. If you've made a habit out of chewing on a certain side of your mouth or of avoiding certain foods, you can start to relax those restrictions when you upgrade to implants. That level of comfort compared to other tooth replacement options is something worth being thankful for.
They're Durable
A set of well-maintained dentures is likely to last around 5-10 years before being replaced. A dental bridge has a similar lifespan. Dental implants, on the other hand, can last over 30 years if you take care of them. Even then, you usually don't have to replace the entire implant, just the porcelain crown meant to simulate your tooth.
They're Realistic
Most oral appliances don't sit in your mouth all day. There's usually a fair amount of taking them out to eat, sleep, and to clean them. With dental implants, that isn't necessary. You can use them to eat anything you'd have normally, and clean them the way you would your natural teeth. Most of all, dental implants are meticulously sculpted to look perfect. If you've been insecure about a missing tooth for a long time, a prosthetic can make you feel the way you did before you even lost it.
With everything that dental implants can offer to people with missing teeth, we should take some time to appreciate them. So next time someone asks you what you're thankful for, you might not actually say "dental implants," but you can at least spare them a thought.
About the Author
Dr. Mihran Asinmaz is an implant dentist who loves to craft his patients their perfect smiles, which is why he's happy to complete every step of the dental implant process under one roof. He earned his Doctor of Dental Medicine at Nova Southeastern University, and he's a proud member of both the American Academy of Cosmetic Dentistry and the International Congress of Oral Implantologists. He uses his expertise in implant dentistry to provide patients with the latest in oral medicine. If you have any questions about dental implants, Dr. Asinmaz can be reached via his website or by phone at (561) 640-9200.