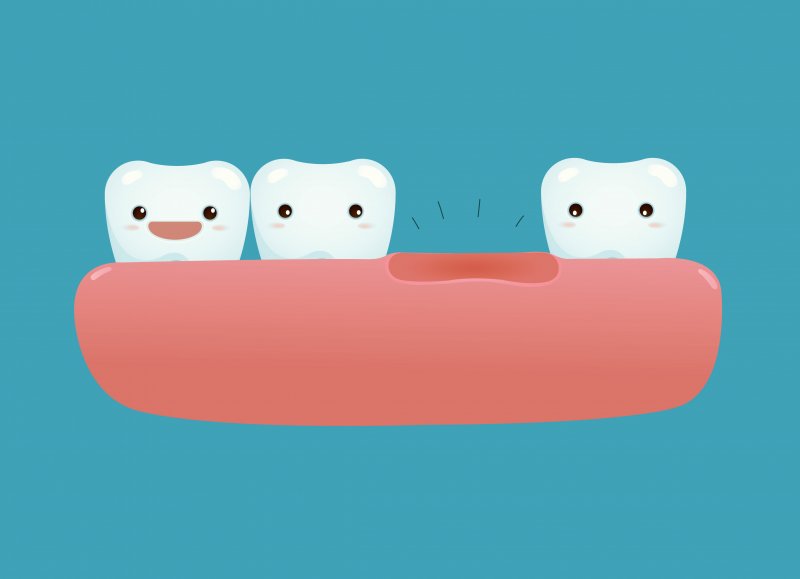 Most of the time we devote to our teeth is spent on the ones everyone sees when we smile. If you lost one of them, you'd probably immediately make a call to your dentist. However, you should have the same sense of urgency when it comes to your molars as well. Here are a few reasons why losing one of your back teeth is a problem that needs to be dealt with immediately.
#1: Preventing Bone Loss
One of your jaw's most important jobs is holding your teeth in place. If you lose a tooth, that part of your jaw no longer has much of a purpose. That means your body will take nutrients from that area of the mouth and move it to another. The result is a loss of bone where you're missing a tooth, which can make skin sag and teeth loosen in the area around the missing tooth. Getting a dental implant will reemphasize your jaw's importance, preventing bone loss.
#2: Making Cheeks Look More Full
The teeth in the front of your mouth aren't the only ones that make a difference in how you look. A missing back tooth means that your cheek isn't supported in that spot, which can be apparent from the outside. Even if the gap is non-obvious, your skin might start to sag, making you more likely to develop wrinkles. A dental prosthetic can reverse the effect, making your face look fuller, younger, and more symmetrical.
#3: Keeping Teeth Straight
Teeth are strong but surprisingly malleable. Bite down right now; you can probably feel your molars move slightly. Your teeth can budge a little bit, which makes them less likely to break under pressure. However, when a gap opens up in the mouth, that means your teeth can be pushed out of place. This happens relatively quickly following tooth loss, and the outcome is usually a smile that doesn't look quite straight. If you want to keep your teeth in line, you'll need something to fill the gap.
#4: Helping You Chew
Your molars are used to grind up tough foods as you chew. Missing a tooth means that process is more difficult, which can make these foods harder to digest. What's worse is that meats and vegetables that can be tough to chew are some of the most nutritious. By leaving a gap in one part of your mouth you're robbing yourself of important vitamins.
As you can see, the teeth at the front of your mouth aren't the only important ones. If you have a missing molar, a dentist can offer you solutions to make your life easier. They'll be able to keep your smile strong, stable, and healthy.
About the Author
Dr. Mihran Asinmaz is an experienced implant dentist who prides himself on treating everyone who visits his office with the respect they deserve. He works hard to foster a relationship of trust with all his patients. Dr. Asinmaz received his Doctor of Dental Medicine from Nova Southeastern University and is a member of both the American Academy of General Dentistry and the International Congress of Oral Implantologists. If you have any questions about tooth replacement options, he can be reached at his website or by phone at (561) 640-9200.