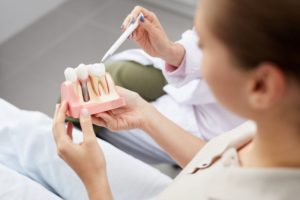 Maybe you've been interested in dental implants for a while now, or maybe you've only recently lost a tooth and are considering your options. In either case, you need to schedule a dental implant consultation with your dentist. During this visit, you won't have any work done on your smile, so what exactly happens during this appointment? What can you expect? Keep reading to find out!
Oral Examination
In order to qualify for dental implants, you must meet specific criteria: have good oral health, be generally healthy, and have enough jawbone density. Basically, your dentist will examine your mouth checking for gum disease or any other potential problem that could interfere with your implants. They will also ask about your overall health, medical history, and medications. Some patients, such as those with poorly managed diabetes, osteoporosis, or other conditions may require additional medical support and adjustments before implants can be seriously considered.
Scans and Imaging
As thoroughly as your dentist will inspect your mouth, there are certain things they need to check but cannot see with the naked eye. Bone density is a major determinant in the success of dental implants, but the only way to see it is with technology. Some dental practices invest in advanced technology and have a 3D cone beam scanner. The imaging captured with this device is much more detailed, showing how much bone density you have. From this, your dentist can determine if you are a good candidate for this treatment.
Discussion of Your Goals and Needs
Believe it or not, your input matters during the implant consultation. Your dentist wants to know what you have in mind for your smile so that they can meet or exceed your expectations. For example, if you are missing all your natural teeth, you may wish to have implants but have your denture be removeable. Your consultation is the perfect opportunity to share your preferences and ask any questions.
Planning Your Treatment Options
With all this information under consideration, your dentist can then present your viable treatment options. Once you choose which route you want to take, the dentist can then start planning the procedure with more precision, using the scans from before. In addition to bone tissue, a 3D cone beam scanner also captures blood vessels, nerve endings, and other valuable information that can help your dentist perform the placement with fewer complications.
In the end, your implant consultation is an important meeting to have, no matter where you are in considering dental implants. So whether you just want some more information about this treatment or you want to get started, reach out to your dentist and schedule your consultation!
About the Author
For Dr. Mihran Asinmaz, technology plays an essential role in the quality of care he provides to patients. When it comes to dental implants, we take advantage of 3D cone beam technology to plan procedures with precision. Dr. Asinmaz's dedication to continuing education and clinical experience also qualify him to place implants in-house. If you would like to set a dental implant consultation, you can contact our office through our Contact Us page or by calling 561-640-9200.