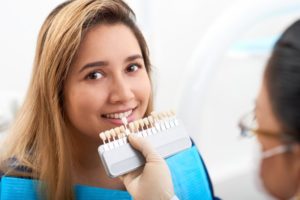 Have you gotten dental veneers to fix all of the cosmetic flaws in your teeth? If so, you might be wondering how long you can expect them to last. Veneers might seem permanent, but you'll eventually need veneer replacement in West Palm Beach. How can you tell when it's time to replace your veneers? Keep reading to find out!
Signs Your Veneers Need to Be Replaced
The exact lifespan of veneers varies depending on a number of factors, but it usually falls somewhere between 10 and 20 years. If it has been over a decade since you received your veneers, keep an eye out for the following signs that they should be replaced soon:
Your veneers are chipped, cracked, or worn – Veneers are made from dental porcelain, which is incredibly durable. Still, it's not built to last forever. If your veneers show visible signs of damage, that may indicate that their lifespan is drawing to a close.
Your veneers feel rough around the edges – Another sign of wear is if your veneers feel rough when you run your tongue over them. Even if your veneers look fine, roughness means they have worn down as time has passed.
Your veneers are starting to separate from your teeth or gums – Although veneers don't require any specialized care, regular oral hygiene is still important. If you don't brush, floss, or attend dental checkups often enough, you might develop tooth decay or gum disease. These conditions can cause the underlying teeth or gums to separate from the veneers.
If any of these signs sound familiar, definitely reach out to your dentist and have them take a look. They can let you know whether your veneers need to be replaced and discuss your options.
How to Make Your Veneers Last
Once you've gone through the process of replacing veneers, you'll naturally want your next ones to stand the test of time. These simple tips can maximize the lifespan of your veneers:
Every day, make sure to brush your teeth twice (for two full minutes each time) and floss at least once.
Be gentle when brushing your teeth. Also, use a nonabrasive toothpaste; many whitening toothpastes can wear down veneers, which shouldn't even need to be whitened at all.
Don't use your teeth to open packaging, carry grocery bags, or do anything other than chew food.
Wear a nightguard if you habitually grind and clench your teeth while you sleep.
See your dentist every six months. Routine checkups help your dentist identify problems with your oral health early on, making treatment more conservative and effective.
Still unsure whether your veneers need to be replaced? Call your dentist! It never hurts to have them look at your smile and make sure it stays in great shape.
About the Author
As a skilled cosmetic dentist in West Palm Beach, FL, Dr. Mihran Asinmaz is proud to offer top-quality veneers in his comfortable, high-tech dental office. He obtained his Doctor of Dental Medicine degree from Nova Southeastern University and maintains active memberships in several professional organizations, including the American Academy of Cosmetic Dentistry. He's always happy to help if you suspect you need veneer replacement; simply contact his office at 561-640-9200.