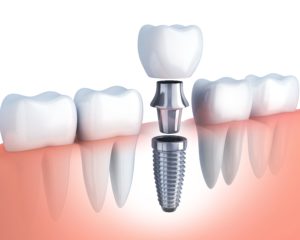 As a method of replacing missing teeth, dental implants are becoming more and more popular. While they boast an incredibly high success rate of over 95 percent, there is still a small chance that yours may fail. In most cases, removing failed dental implants in West Palm Beach is a relatively easy process. Keep reading below to learn how your dentist can safely remove a failed implant.
Why Do Dental Implants Fail?
Generally, there are two types of implant failure that can occur. The first, known as "early implant failures," happen in the first few months after the implant has been surgically placed. In these situations, the implant is often easy to remove with a simple "unwinding" motion, as the jawbone has not firmly grown around the implant post. Early implant failures often occur as a result of infection, poor healing ability, or too much movement of the implant during the healing process.
"Late implant failures" occur more than a year after placement. They may be due to excessive force being placed on the implant, like with teeth grinding. More commonly, a form of gum disease called peri-implantitis has weakened the bone supporting the implant.
Whatever the case may be, your dentist can safely remove the implant and restore your oral health.
How Your Dentist Removes a Failed Implant
Your dentist strives to take out the implant while preserving as much healthy jawbone as possible. In some cases, it's possible to remove an implant with almost no bone removal at all, which is always the goal.
First, your dentist may use a device like a Cone Beam CT scanner to develop 3-D images of your mouth and jaw and determine the precise location of the implant as well as how to best remove it. During the procedure, your mouth will be numbed, so you shouldn't experience pain. Your dentist will then create a small incision in your gums to access the implant. A fine-tipped instrument is used to remove the implant as well as an incredibly thin layer of bone surrounding it.
Depending on your situation, you might be able to receive another implant immediately along with a bone graft to strengthen the jawbone.
How to Prevent Dental Implant Failure
Minimizing your risk of implant failure is actually pretty straightforward. Keep the following tips in mind:
Brush and floss around your implant restoration every day.
Visit your dentist for a routine checkup and cleaning at least twice a year.
Avoid using tobacco products.
Don't use your teeth as tools to open packaging, chew ice, etc.
If you grind your teeth, ask your dentist about a custom-made nightguard.
Wear a mouthguard whenever you play sports.
In general, maintaining your dental implants is similar to caring for your natural pearly whites. If you notice any strange symptoms like pain, bleeding, or looseness around your implants, call your dentist right away.
About the Author
Dr. Mihran Asinmaz is a dentist in West Palm Beach, FL who obtained his Doctor of Dental Medicine degree from Nova Southeastern University. As a member of the International Congress of Oral Implantologists, he is qualified to place and restore dental implants, as well as removed failed ones. If you're experiencing a problem with your implant, contact Dr. Asinmaz' practice at 561-640-9200.