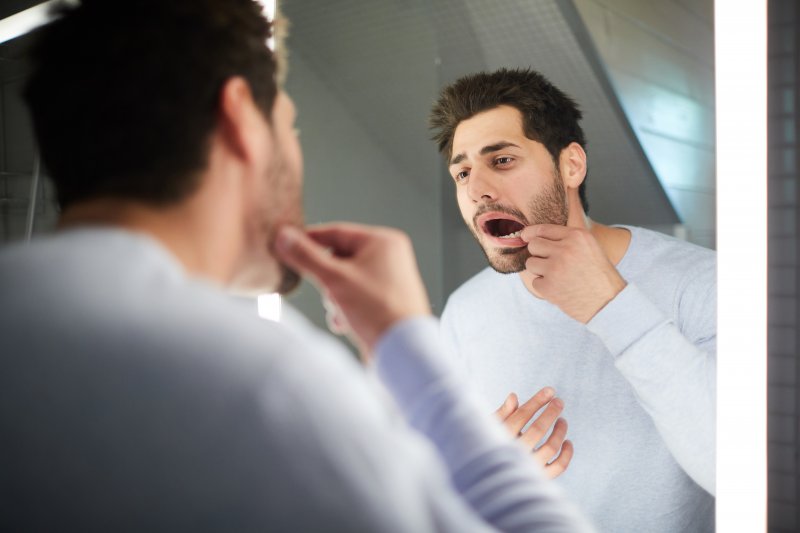 For patients with gaps in their smile, a weak bite force, or impaired speech, dental implants in West Palm Beach can be lifechanging. While they are widely known for their 95% success rate and natural-looking appearance, patients need to be aware of the potential complications as well. Although rare, these issues can occur and require immediate care to ensure they don't negatively impact the longevity of your dental implant. One of the most common issues is food becoming lodged between your gum and dental implant. If this has happened to you, read on for what to do and prevention tactics to keep them clean.
What Should I Do If Food Gets Stuck Under My Dental Implant?
If the gums recede or haven't relaxed following the procedure, it is common for a space to form. If this happens, food particles and debris can easily become trapped, which can lead to irritation, inflammation, and infection. To prevent this from occurring, it is of the utmost importance to speak with your dentist and keep the area clean with an oral irrigator (like a Waterpik or Waterflosser).
5 Steps to Effectively Cleaning Dental Implants
To boost the longevity of your dental implants and ensure you are one of the millions enjoying a restored smile and strong bite force, you must keep them clean. Fortunately, they can be properly cared for the same way your natural teeth are! Therefore, make sure to:
Brush your teeth for two minutes twice a day.
Floss daily.
Use mouthwash regularly.
Always clean your tongue.
Visit your dentist for routine appointments.
4 Additional Tactics to Keep Your Dental Implants Clean
A consistent dental hygiene routine is the foundation of good oral health. However, lifestyle habits and dietary patterns can also either improve or negatively impact the lifespan of your dental implants. Therefore, it is important that you:
Avoid poor dental habits (i.e., smoking, nail-biting, etc.).
Follow instructions given to you by your dentist regarding which foods you can and cannot eat.
Implement a vitamin-rich diet to keep your teeth and gums healthy from the inside-out.
Consistently drink water throughout the day to rinse your mouth of food particles.
To ensure your oral health stays in pristine condition, it is important to keep your dental implants clean by implementing the above prevention tactics. If you get food stuck between your dental implants and your gums, make sure to contact your dentist immediately to treat the root of the issue.
About the Author
After receiving his undergraduate degree from the University of Florida, Dr. Mihran Asinmaz earned his Doctor of Dental Medicine from the Nova Southeastern University. Since then, he has continued to stay up to date on the latest technology and modern techniques through continuing education courses and advanced training. Dr. Asinmaz is also currently a member of multiple notable organizations, including the American Academy of Cosmetic Dentistry and the International Congress of Oral Implantologists. If you would like additional information on dental implants or are looking for a dentist in West Palm Beach, don't hesitate to visit his website or give him a call at 561-640-9200.