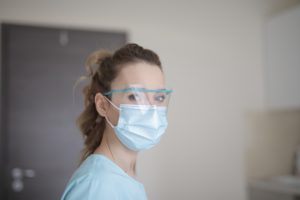 With social distancing measures in place over the last several weeks, it might be past time for your semi-annual appointment in West Palm Beach. Despite the dental offices reopening their doors, it's normal to be concerned about your potential exposure to COVID-19 during your cleaning and checkup. There's no need to worry because your safety is a top priority. Your dental team is planning for your visit, even before you arrive. Here are 5 ways your dentist in preparing for your appointment to ensure you stay healthy.
1. Safety Champion
Every member of your dental team will be a Safety Champion, which means they are responsible for doing their part to combat the spread of COVID-19. They've undergone additional training for awareness and preparedness to reduce the risk of coronavirus, including in personal protection, patient safety, and disinfecting techniques.
2. Daily Health Checks of Staff
For your dental team to provide the quality care that you deserve, they must be feeling their best. Not to mention, patient safety is a top priority. As a result, your dental team will perform daily health checks to ensure no one is experiencing any signs of illness. Their temperatures will be checked, and they'll be required to answer a few questions each day before beginning their shift.
3. Change Work Clothes at Work
Research shows healthcare works can transmit harmful pathogens from their work clothes. While you might have seen a member of your dental team at the grocery store wearing their scrubs, you won't anymore. Now, it's common practice for healthcare professionals, including those in the dental field, to change their work clothes at work to reduce cross-contamination.
4. Personal Protective Equipment
Although there's still much to learn about coronavirus, we know it can be transmitted from person-to-person when close to each other, which is why social distancing is important. Unfortunately, your dental team can't perform the care you need from 6 feet away. Instead, they will use personal protective equipment, like gloves and masks, to create barriers to stop harmful pathogens.
5. Staff Planning Meetings
Communication is essential for ensuring nothing is overlooked in a dental office, which is why your dentist will hold regular staff planning meetings. This allows them to work together to provide a sanitary environment before you arrive for your appointment.
Enjoy Safe Dental Care
If it's time for your routine dental appointment, don't Google, "Where is a dentist near me?" Instead, look for a location that's raising the bar for dental safety protocols. You will enjoy comprehensive care without worrying about coronavirus.
About Dr. Mihran Asinmaz
Dr. Mihran Asinmaz believes it's a privilege to provide dental care to patients, which is why he strives to deliver the excellent services everyone deserves. He remains well-versed in the latest treatments and techniques, including the COVID-19 protocols. He's implemented several changes to ensure his staff and patients stay healthy. If you need an appointment or have questions about our safety measures, contact our office today.