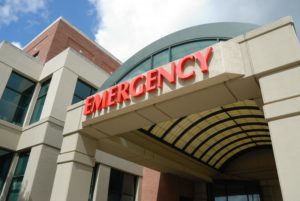 Do you know where to get urgent care for a broken or knocked-out tooth? Many people spend unnecessary time and money taking their dental emergencies to the ER instead of looking for an "emergency dentist near me." However, to keep yourself safe from COVID-19 and ease the load on the overwhelmed health care system, it's more important than ever to know where to turn when your smile needs immediate help. Get the care you need while also protecting yourself from the coronavirus by avoiding the ER and calling your West Palm Beach emergency dentist first.
Visiting Your Dentist Vs. The ER in COVID-19
Since dental emergencies are often sudden and overwhelming, it's important to know where to go before they happen, especially now. If you need urgent dental care, keep in mind that:
You're less likely to get sick at your dentist's office: Both ER and dental staff work tirelessly to keep their offices clean. However, far fewer potentially sick people will be at your dentist's practice. Getting care from a less trafficked area will lower your risk of catching COVID-19.
You're more likely to get treatment faster at your dentist's office: A wide variety of pressing health issues that require immediate care are treated at an ER, while your dentist only treats dental emergencies. They will likely be able to treat you much sooner than a busy ER doctor.
Hospitals and ERs are currently overcrowded: COVID-19 is very contagious and occasionally very serious, so there is a sizable influx of people seeking immediate health care. Taking your dental emergency to your dentist frees up the valuable time, effort, and attention of medical staff who can address these patients.
Not all ERs can provide specialized dental care: Not every emergency room is equipped with a dentist on staff who can perform emergency tooth extractions, dental crown placements, or root canals. While the ER will help manage your pain, your emergency dentist will have the tools, training, and experience to restore your oral health and repair your smile.
When to See Your Emergency Dentist
Unless you are having difficulty breathing or swallowing, you should call your dentist instead of the ER for:
Broken or fractured teeth
Uncontrollable bleeding in the mouth
Knocked-out or partially dislodged permanent teeth
An intense or severe toothache
Toothache accompanied by fever, fatigue, or swelling in the face, jaw, or neck
To keep ourselves and our communities safe, we should do everything we can to avoid a dental emergency while in quarantine. However, if you find yourself needing urgent dental treatment, it's important to know where to get the care you need during COVID-19.
About the Author
If you or a loved one experiences a dental emergency in West Palm Beach, FL, don't hesitate to call Dr. Mihran Asinmaz. While his practice is currently closed for routine checkups and other non-emergency appointments, he is keeping his office clean and germ-free so you can safely get the urgent dental care you need during the COVID-19 quarantine. His goal is to meet and exceed his patients' expectations of dentistry even in these strange times, so feel free to read about what he's doing to keep you healthy. If you need emergency dental treatment, don't hesitate to contact him via his website or at (561) 640-9200.