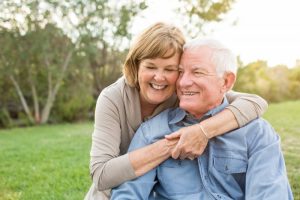 Are you missing multiple teeth? Would you love to get dental implants but think you can't because you have full or partial dentures? The truth of the matter is that you can still enjoy all the benefits of dental implants even with full or partial dentures by combining the two. After all, dental implants address your missing teeth beneath the surface, and dentures provide the aesthetics on top. They can complement each other perfectly! Here are 3 ways you can combine dentures and dental implants in West Palm Beach to restore your full smile in every possible way.
Dentures
Concerning convenience, dentures have a clear advantage over other replacement options for multiple teeth. Advances in recent years mean that dentures are often secured using suction or metal clasps, but they are still easily removed for cleaning and convenience. The main drawback of having dentures alone is that the jaw can lose bone density over time. As a result, your facial shape can change, requiring new dentures every five to seven years.
Dental Implants
Compared to any other restoration option, dental implants have the most long-term benefits. They become integrated into the jaw bone, encouraging bone growth and fighting density loss, so you can maintain your oral health. Dental implants are very stable, preventing any potential awkwardness that dentures alone can result in. With the proper care, they also last much longer—up to thirty or more years!
Dentures and Implants Together
Implant Denture
If you'd like to keep the flexibility of your removeable dentures while having the security of dental implants, you can opt for the best of both worlds. One choice allows you to "snap" your dentures into place on top of multiple implants, giving you the confidence to bite, chew, speak, and smile without having to worry about your dentures coming loose.
Fixed-Removeable Denture
For even more security, fixed-removeable dentures are screwed down on multiple implants, but your dentist in West Palm Beach can still remove the dentures if necessary.
All-on-4 Dental Implants
For those who have a jaw bone that is too thin or weak for traditional implant dentures for all missing teeth, this option may provide an ideal solution. Using only four strategically placed implants, your dentist can hold your full denture in place. Two implants are typically located at the front of the jaw with the other two toward the back at an angle to provide maximum support.
Your mouth is unique, and your treatment plan to address the gaps in your mouth should be unique as well. Just because you're missing multiple teeth, it doesn't mean that you have to choose just one restoration option. By putting dentures and dental implants together, you can regain the full strength, look and feel of your smile and the confidence to let it show.
About the Practice
In his practice, Dr. Mihran Asinmaz and his staff strive to provide patients with one-on-on attention and treatment options so that they can choose whichever is right for them. Also, through the Trios Color Digital Impression System for many treatments, they can offer impression results that are more accurate and an experience that is more comfortable for patients. To schedule an appointment with Dr. Asinmaz, you can call (561) 640-9200 or click here.