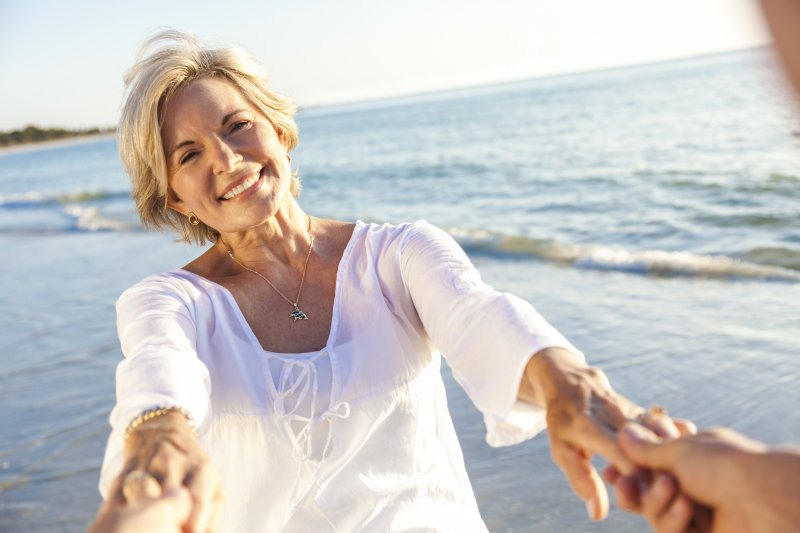 While no one gets excited about a missing tooth, that gap can seem pretty harmless, especially if it's in the back of your mouth. You may see no reason to rush into replacing the tooth with West Palm Beach dental implants unless chewing is difficult or the gap impacts your smile. Unfortunately, more serious consequences lurk below the surface when patients put off replacing missing teeth. Avoid those risks by learning what happens when you leave those gaps for too long.
What happens if I put off replacing my missing tooth?
To start with, if your gap is visible you can experience a loss of confidence when you're with friends on the golf course, in a local pub, or at the beach.
However, the most serious consequences of an untended gap include:
Remaining teeth tend to shift, which can cause spaces between teeth, crowded or cracked teeth, gum disease and decay.
Jawbone loss changes your facial appearance, puts future restoration choices at risk, and even creates TMJ pain.
How does a missing tooth cause bone loss?
The constant contact teeth have with each other throughout the day transmits small amounts of stress to the ligament that holds a tooth in its socket, signaling the bone to continually rebuild more bone. The lack of stimulation that occurs when a tooth is missing causes the bone to melt away over time, which leads to gum shrinkage, too.
On its own, this process never stops, which is why the jaws of toothless individuals grow smaller and have a sunken appearance.
What are my options for replacing missing teeth?
For many years, the traditional treatment for a missing tooth has been a bridge, which is a prosthetic that fits into the gap left by missing teeth and is anchored in place with two dental crowns on either side. Because it's more difficult to clean around dental fixtures, one problem with a bridge is that it puts two perfectly healthy teeth at risk.
But that's not all! A bridge doesn't prevent the most alarming risk of a missing tooth. State-of-the-art dental implants are the best way to protect your jawbone and restore your smile.
How do dental implants impact bone loss?
Implants are actually root replacements made of titanium. Missing teeth seem harmless, but beneath the surface, seriouschanges can be occurring that could be prevented with WestPalm Beach dental implants.Once they are surgically inserted into the bone, the titanium will stimulate bone growth around the implant in a natural process called "osseointegration."This fusion creates unmatched stability. The new "tooth" is screwed onto the implant and can be easily replaced if damaged.
In addition to preserving so many aspects of dental health and long-term physical aesthetics, dental implants have proven to be the most successful, functional, and not to mention beautiful treatment for missing teeth and the bone loss they cause.
About the Author
Dr. Mihran Asinmaz considers it an honor and a privilege to spend his days fulfilling his passion to serve his patients. He follows the Golden Rule in every procedure, treating others as he would want to be treated, and prioritizes staying educated on the latest advancements in dentistry. Call 561-640-9200 to learn more about the difference Dr. Asinmaz's passion can have on your dental experience.