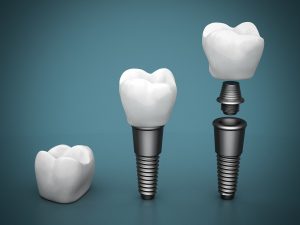 You might have heard horror stories about dental implants failing, but those incidents are the exception to the rule. Dental implants actually have a very high success rate. While the exact success rate depends on which study you consult and the criteria for defining "successful" implants, the overwhelming trend is that these tooth replacements work marvelously. You might wonder, though, exactly why are dental implants in West Palm Beach so successful?
Biocompatible Materials
The term "biocompatible" describes a material that isn't harmful to living tissues. It can work well with the body, integrating into its functions and becoming another useful part of the whole. In the past, a wide range of materials were used to create dental implants. Some of these materials, such as stone or different resins, were either not very biocompatible or had widely varying success rates.
Implant science has evolved greatly since the idea of replacing tooth roots began over a thousand years ago in ancient Egyptian and South American Society. Today, titanium is the preferred choice of material in most dental implant cases.
The Marvels of Titanium
Because titanium is a metal rather than an organic material, you might be surprised to learn that it is actually very biocompatible. There are several reasons why it is the go-to substance for dental implants:
It is highly resistant to corrosion by bodily fluids, such as blood, and it is incredibly strong.
Very few people are allergic to titanium.
Its strength and flexibility are similar to that of natural bone.
It can bond with natural bone in a process known as osseointegration. When this occurs, it creates an extremely sturdy base for the artificial teeth and helps to preserve the structure of the jawbone.
Pure titanium isn't usually used for implants; it is combined with small amounts of other metals, such as aluminum, to make it lighter and more suitable for medical purposes. The titanium alloy that is usually used in dental implants also plays a role in many other medical procedures. It is even the most common material for body piercings.
Titanium Isn't the Only Option
While titanium is the standard material that your dentist in West Palm Beach uses for implants, it is not the only option. Some people opt for zirconia instead, which is not as strong as titanium but which offers other advantages. It also very compatible, and it may work for the few people who are allergic to titanium.  Some studies even suggest that zirconia presents a lower risk of inflammation than titanium.
Are you thinking about getting dental implants in West Palm Beach? Your dentist will determine what the best material is for your mouth. Your brand-new smile may not be far very away!
About the Dentist
Dr. Mihran Asinmaz is your passionate, friendly dentist in West Palm Beach. He wants all of his patients to enjoy functional, healthy, and attractive smiles. If you are ready to talk about getting dental implants, why not come in for a chat? You can contact our office at 561-640-9200.