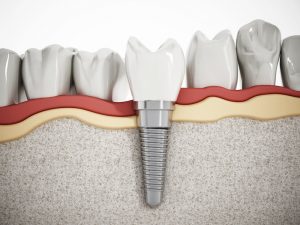 If you are missing one or more teeth, I know one thing for sure — you are ready to have them replaced. Most people know dental implants are one option following tooth loss, but they may be wondering whether or not they are a viable candidate for the replacement option. If that sounds like you, keep reading to find out more about what it takes to be eligible for dental implants in West Palm Beach.
Dental Implants: An Overview
Dental implants are a whole-tooth replacement that mimics your natural tooth structure. A dental implant is composed of a titanium post, a connecting abutment, and a replacement crown, bridge, or denture that is affixed on top.
By replacing your missing tooth's root as well as the visible portion, dental implants allow patients to enjoy better oral and overall health as well as the renewed ability to eat, speak, and smile without the interference of a loose or ill-fitting prosthetic.
While not everyone can make dental implants fit in their budget, I always urge eligible candidates to strongly consider this replacement option. Nothing does a better job replacing one, two, or a whole row of missing teeth!
Factors for Dental Implant Success
Dental implants require a strong, healthy jawbone in order to anchor properly. Some of the factors that can influence the health or strength of the bone tissue include:
If the teeth have been missing for many months

Severe cases of gum disease which has diminished the healthy bone and gum tissue

More compact areas of the jaw where there was insufficient bone structure to begin with
When I assess your eligibility for dental implants, I will consider the strength of the jawbone in the area where the tooth has been lost. If it is not sufficient to secure the dental implant, I will likely recommend a bone augmentation procedure first to create more support for a successful implant procedure.
In addition to having a strong, healthy jawbone, patients should be in suitable overall health. Certain health conditions that affect the immune system can inhibit proper healing after the dental implant procedure. People with diabetes, advanced-stage cancers, and other diseases are often better served by a non implant-retained replacement option.
Are You a Candidate?
So now the question is — are you a good candidate for dental implants? The only way to know for sure if you can benefit from this tooth replacement option is to come in for a dental implant consultation. But in general, if your tooth loss is recent and you are in good oral and overall health, dental implants are likely an excellent option for your tooth replacement. If they are, that's great news — we can get started discussing your treatment plan immediately!
About the Author
Dr. Mihran Asinmaz is a trusted provider of general dentistry, including dental implants. To learn more about your candidacy for this comprehensive tooth replacement, please schedule an appointment with your dentist in West Palm Beach by getting in touch with the office 561-640-9200.